This is a reminder that this Sunday, February 11th is the monthly ACSC Steel Challenge match. The registration/set-up starts at noon on "C" Range, safety briefing at 12:45pm and first shots will start promptly at 1:00pm. PLEASE GO TO PRACTISCORE NOW TO SIGN UP. Shooters who pre-register on Practiscore will take priority in filling up the 24 slots for our match. Due to the length of day this match is limited to 16 shooters. Persons who want to enter a second gun will be allowed to do so at the match provided that there is room. Match cost is $15.00.
This is the link sign up on Practiscore: https://practiscore.com
To see what Steel Challenge is all about, check out this link: https://www.youtube.com/watch?v=z4RXNo4gEyk
Check out our current Newsletter!
Next Events:
SCHEDULED EVENTS FOR FEBRUARY
STEEL CHALLENGE 2/11/18 PRE-REGISTRATION REQUIRED SLOTS LIMITED
CONTACTS FOR THIS MATCH: PAUL WARREN OR MIKE GOSS
GOLF BALL MATCH (100 & 200 YARD) 2/18/18 1PM
CONTACTS FOR THIS MATCH: TIM COURTNEY OR EB SPINK
Check out the crew below at the last bowling pin shoot.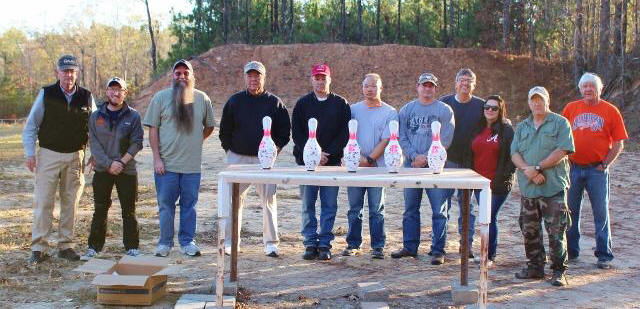 We will post the bowling pin schedule as soon as some of the dates are firmed up.
Remember the club is only as good as the participation of the members. Come see what you have been missing. There have been a lot of folks that have learned so much participating and we also have a great time. Please Like us on Facebook
Welcome
The Alexander City Shooting Club is an organization of individuals and families who enjoy and support the lawful use of firearms for sport and defense. ACSC is committed to the conservation of wildlife, the preservation of sport hunting, and the protection of the rights of gun owners.
The ACSC ...
Throughout the year the club offers:
Concealed Weapon Permit courses
Courses in the tactical/defensive use of firearms.
Shooting-related events including Bowling Pin Pistol Matches, rifle and (Coming Soon)combat pistol matches.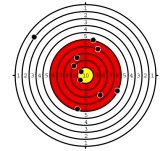 ...More info on the ACSC...
The Shooting Range...
The club also maintains the range is open to ACSC Members 7-Days/Week, Non Members must be with a member in good standing.