Alexander City Shooting Club
About ACSC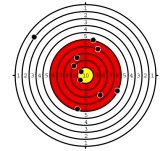 The Alexander City Shooting Club is an organization of individuals and families who enjoy and support the lawful use of firearms for sport and defense. ACSC is committed to the conservation of wildlife, the preservation of sport hunting, and the protection of the rights of gun owners.
ACSC, based in Alexander City, AL, is affiliated with the National Rifle Association.
The club maintains and operates the Alexander City Shooting Range, one mile east of Alexander City, Alabama. The club conducts monthly Bowling Pin Matches, and other shooting-related events.
Membership applications are available in PDF format. You can fill in the form in the pdf, then print it out. Completed applications and club dues can be turned in to Woody Baird at The Sure Shot, Alexander City or or mailed to the club's PO Box 177 Alexander City, AL 35010. Click here for more info on becoming a member.