»
Events
» Event Results & Photos
Event Results & Photos
Range Events...
2015 Golf Ball Shoot April 26th, 2015

2015 Club Meeting and Steak Dinner

We would like to see you at the next one!

2014 Bowling Pin Shoots

The day of the match started out hot and got hotter – if that is possible. The shooters and range personnel had to deal with torrential rains off and on and a humidity level that would drown mosquitos. But the rain, the humidity, the mud all combined could not dampen the spirit of competition – and that is when things really heated up!

With less than 3.5 seconds separating first place from fourth place, it was a tight race to the finish. In the end, it stacked up like this:

1st Place Wayne Hubbard 19.79 seconds

2nd Place Fletcher McKinney 21.31 seconds

3rd Place Curt Bost 22.76 seconds

4th Place Vince Law 22.84 seconds

With the single fastest run was Wayne Hubbard with a time of 3.42 seconds. This was Wayne's second match win AND second speed run win. Congratulations, Wayne! Fletcher McKinney has not shot with us in a while and showed that he has not lost a step. Curt (Young Gun) Bost stepped up to the plate like a veteran. He continues to be a force to be reckoned with. Vince Law will always be in the race; he has good habits and championship form. Once again, Eb Spink managed to finish one out of the money. That makes two in a row…It was good to see Kellye Remson's name back on the roster, along with the other ladies that graced us with their presence, Brooke Baird and Pat Johnson.

I did not participate, so it is difficult for me to name names, but, as usual, the volunteers are what make this match run. The match director, the RSO's, the statisticians, the pin setters – nothing happens without them. All of you know who you are and what you have contributed, not just to the match but to our club. I and the other officers thank you. This is YOUR club and it will not run without YOU.

See you at the range.

Tim Courtney

Secretary ACSC

JUNE 8, 2014 BOWLING PIN MATCH

Although the absence of Match Director (and club president) Woody Baird was sorely felt, his place was more than adequately filled by club vice-president Mike Goss, who also acted as head Range Safety Officer.

This was a typical summer afternoon in Alabama – hot, humid, and an imminent threat of thunderstorms. We managed to finish a hotly contested match without getting wet. The winners were:

1st Mike Goss (seemingly unbeatable!)

2nd Tim Courtney

3rd Jay Phillips

4th Vince Law

I would like to welcome the two new shooters that participated this month – Phil Easterwood and Art Johnson. I hope, above all, that you had fun. We strive to make these matches enjoyable, fun, and attractive to shooters at all levels and ages. I want to thank the people that jumped in and made the match run in the absence of some of our usual volunteers. As usual, it is the volunteers that make these matches run and I appreciate it. The next scheduled match is July 20, 2014 at 2 PM. I'd like to see you there. Mack – call Eddie and tell him he doesn't need to be afraid.

The Alabama Gun Collectors Association Summer Show is scheduled for July 12-13 at the BJCC Exhibition Hall. This is one of the largest shows in the southeast – over 700 tables at the last show – and coming back strong. They always have exhibits that make the trip worthwhile; plus all the vendors available for buying, selling, and trading. For those of you that attend these shows regularly – by joining the Association (AGCA) you do not pay to enter their shows. Something to consider…

See you next month! Tim Courtney

Secretary / ACSC

BOWLING PIN MATCH RESULTS April 13th 2014

MAY 18, 2014 BOWLING PIN MATCH REPORT

L-R 1. M. Goss 2. V. Law 3. C. Bost 4. T. Courtney

Once again the club had a perfect day for a gathering. The temperature was great, skies were blue, shooters were in abundance, and a good time was had by all. Although we had no new shooters this match, I was really glad to see Joe and Jarrod East, father and son, who at one time were fixtures at our matches, return after too long an absence. Joe, Jarrod – welcome back!

The base of regular shooters continues to grow; Mack Clayton was back, "Fast" Eddie Voss was in attendance, the young gun Curt Bost made it known that he is a force to be reckoned with.

Match winners were:

First place: Mike Goss

Second place: Vince Law

Third place: Curt "Killer" Bost

Fourth place: Tim Courtney

Match times and placing for all shooters can be seen in the attached spreadsheets. One is the actual score sheet, the other an Excel spreadsheet developed by Eb "Master Blaster" Spink that ranks all shooters by time, first to last.

If you are not a participant, you will most likely notice that some shooters shot more than once. This is in accordance with match rules that state: Any shooter may enter as many times as they wish as long as they understand and abide by the following: You must use a different gun each time you shoot. Regardless of the number of times you enter, you can only place once. If you entered twice and your times were good enough to place first and third, you will be awarded first place only. The shooter whose time placed fourth will move into third place. Pretty simple system, actually, and it helps spread the joy around.

I would like to take the time to thank, once again, the people that made this match seamless. Woody Baird, Mike Goss, Jeb Baird, everyone that assisted in setting pins – a great big THANK YOU! Kellye, your help was sorely missed. I hope to see you at the next match.

Tim Courtney

APRIL 13, 2014 BOWLING PIN MATCH

The April Bowling Pin Match at The Alexander City Shooting Club (ACSC) took place on Sunday, April 13, at 2:00 PM as scheduled. As usual in former years, the match came off without a hitch thanks to the volunteers who run it. It was well attended, hotly contested, and thoroughly enjoyed.

The weather was great, slightly breezy, but perfect for a spring day. There were a total of 21 paid entries, including the shooters that paid to shoot twice. A note of clarification on multiple entry shooters – you can enter and shoot as many times as you like, BUT, you must shoot a different gun each time you shoot. You may only qualify to place ONCE, no matter how many times you shoot. For instance, if you shoot twice and your times qualify you for 1

st and 3rd place finishes, you will only qualify for the 1st place entry. If you choose to enter the Speed Run (entirely separate voluntary pot for the single fastest run of the day, also known as the Mike Goss Gas Fund) it only requires one entry, regardless. This levels the playing field.

I would like to take this opportunity to welcome the two new shooters at the match, Andrew McGreer and Mack Clayton. I hope they enjoyed being there as much as we enjoyed their company. I sincerely hope they spread the word that this match is all about fun and bring a friend with them in May. As usual, I also want to thank the volunteers who make this match possible – Woody Baird, Match Director and Club President, Mike Goss, Range Officer and Club Vice-President, Kellye Remson, Head Statistician and All-Around Great Gal, Jeb Baird, Assistant Statistician, Honorary Nephew, and Indentured Servant. Thanks to all the folks that jumped in and re-set pins and made the match flow.

Now, on to the winners. In First Place, also with the fastest run of the day, was Mike Goss, starting the season off right. Congratulations, Mike! Second place, a great shooter and great guy, Dr. Vincent Law. Way to go, Vince!! Third and fourth place were represented by the Old Guys, Tim Courtney and Eb Spink, respectively. And, just so you don't think you need the newest and baddest equipment out there to compete, the third place shooter was shooting a six shot revolver. Thanks for the hat, Eb!! See the Score Card

October 2013 Bowling Pin Shoot:

The last scheduled bowling pin match of 2013 took place at our range on October 20. As have the previous matches, this was a successful event; both in terms of participation and enjoyment. We were aided in our activity by the weather. If there is such a thing as a perfect day, we witnessed it. The temperature hovered in the high 60's with a very light breeze, the sky was bright blue, the clouds high, wispy, and white. The usual camaraderie and good sportsmanship generally encountered at shooting events was displayed by all and we had an enjoyable afternoon.

Once again I would like to take the opportunity to thank those that volunteered their assistance in making this event run. Volunteers, in all shapes, sizes, and ages, are the lifeblood of our club. We are fortunate to have willing participants.
Results:

1st. Mike Goss Score Sheet
2nd. Jeb Baird
3rd. Kurt (Killer) Bost
4th. Kellye Remson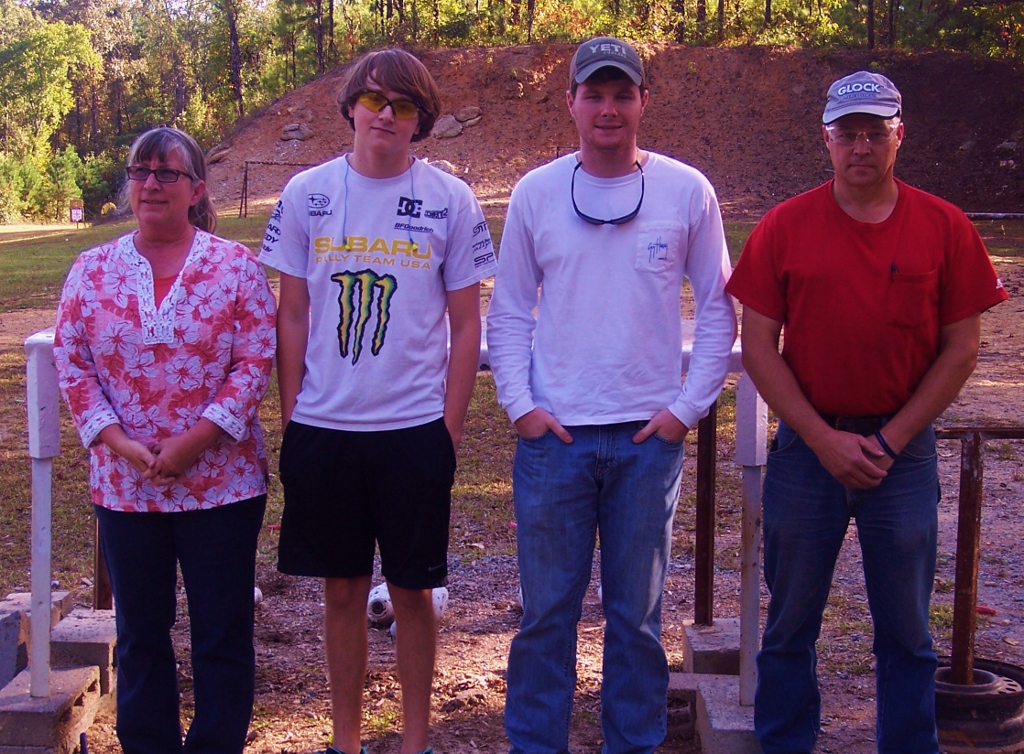 One of our promising young shooters - Kurt Bost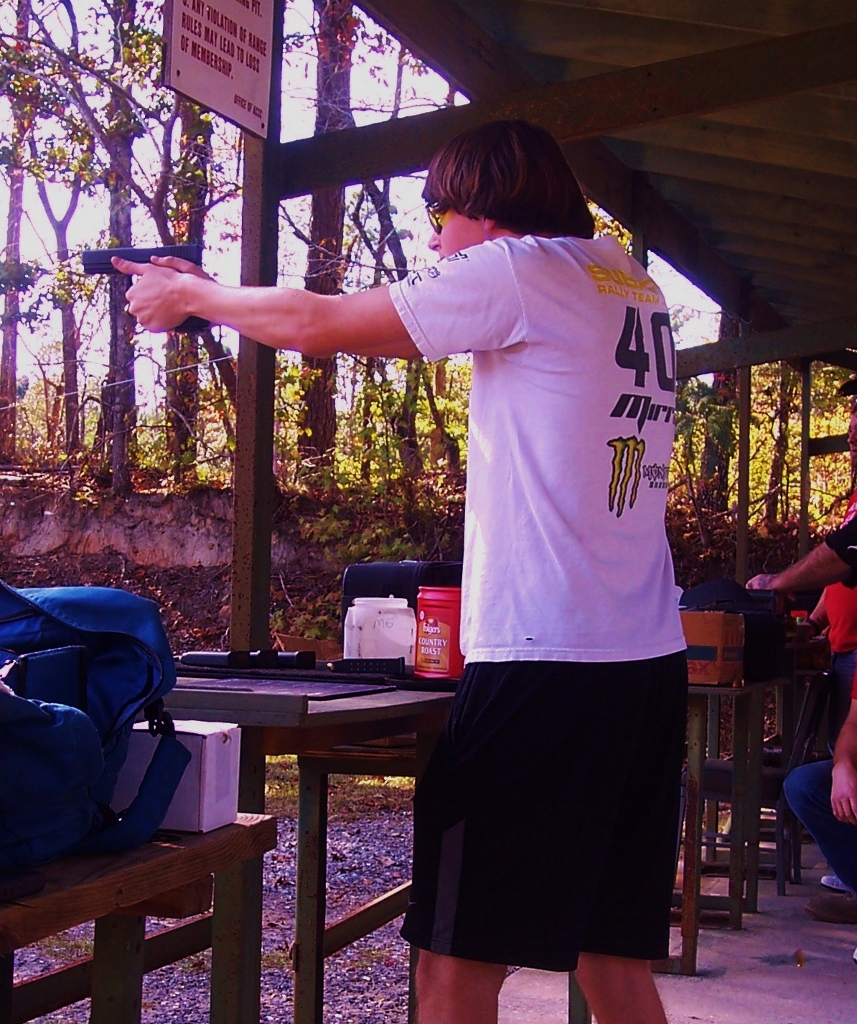 The Motley Crew: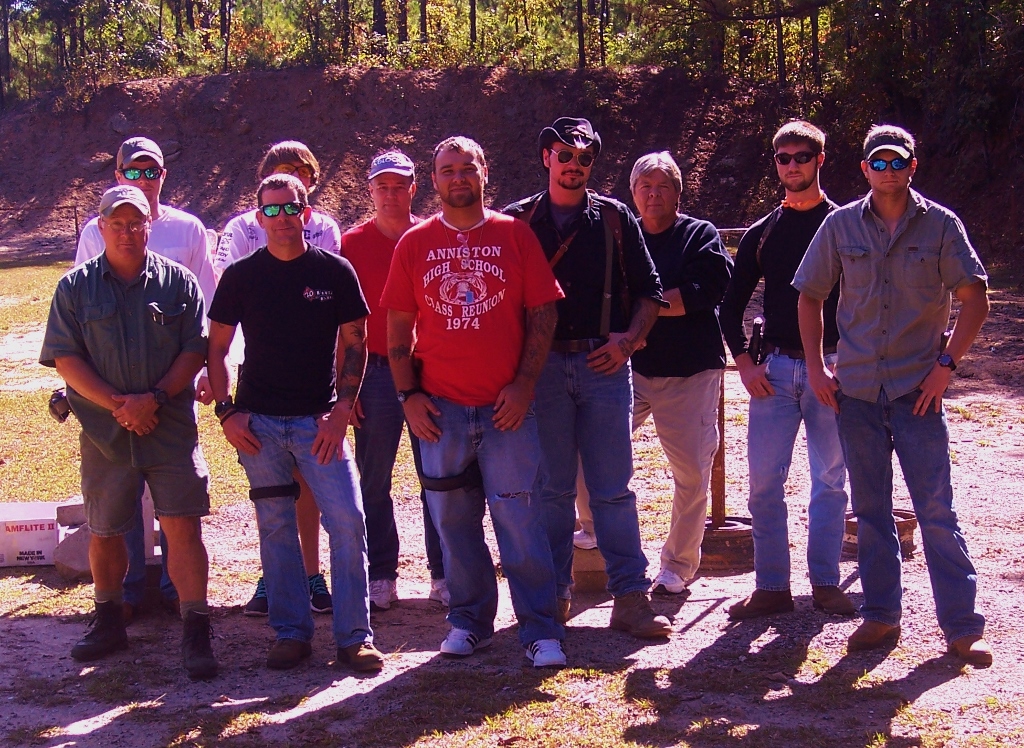 September 2013 Bowling Pin Shoot
The September 17, 2013 Bowling Pin Match at the Alexander City Shooting Club was once again fun, safe, and successful. There were a total of 18 paid competitors with 60% of the entry fees being returned to the shooters and the remaining 40% paid to the club.
As always, club president Woody Baird served as Match Director with assistance on the timer from Mike Goss. Mike also served as Range Safety Officer with assistance from all other qualified persons in attendance. Head Statistician was Tim Courtney with Kellye Remson's able assistance. Brooke Baird also aided in this department. All of the people that help run matches are volunteers and we thank them. Without them we could not function.
Match results are as follows:
1st Mike Goss
2nd Jay Phillips
3rd Vince Law
4th Eb (The Master Blaster) Spink
There was not a match scheduled for October. There was enough shooter interest to add an October match. This has been scheduled for 2 PM October 20. Come on out and have fun!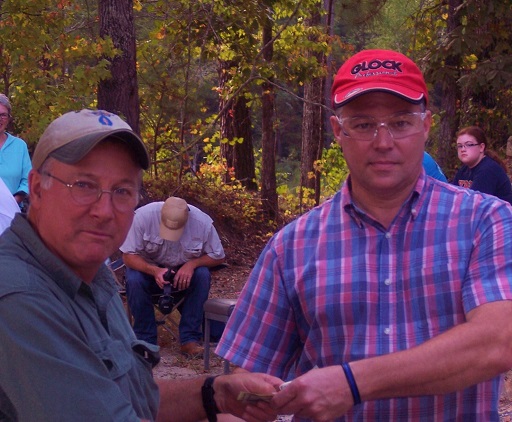 Match Director Woody Baird awards 1st Place winner Mike Goss.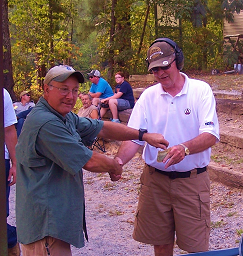 Master Blaster Eb Spink accepts 4th Place award from Woody Baird.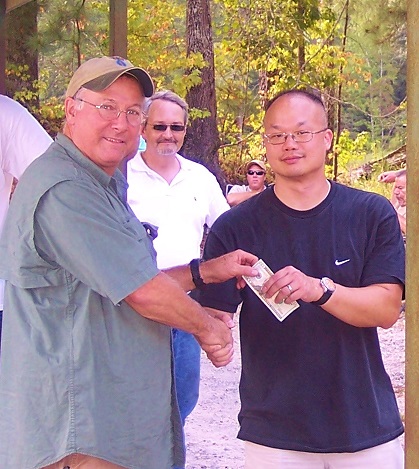 Dr. Vince Law receives his 3rd Place prize from Woody as Dr. Jones observes.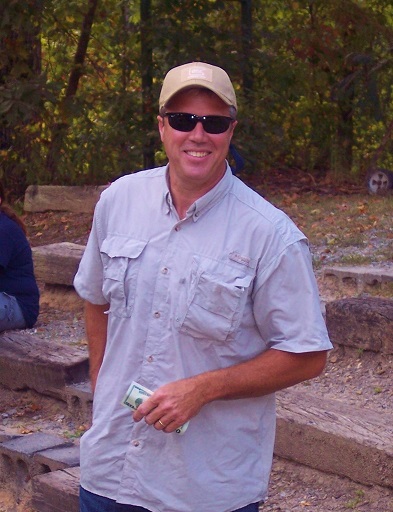 2nd Place winner Jay Phillips did his best to avoid the camera.
__________________________________________________________
APRIL
2013
1ST Mike Goss
2ND Vic Hamilton
3RD Drew Phillips
4TH Marty Trammell
MAY
1ST Mike Goss
2ND Vince Law
3RD B.J. Barnett
4TH Steve Misencik
JUNE
1ST Mike Goss
2ND Steve Misencik
3RD Scott Railey
JULY
1ST Rodger (Razorback) Smith
2ND Mike Goss
3RD Tim Courtney
4TH Vince Law
AUGUST
1ST Mike Goss
2ND Eb Spink
3RD Vince Law