»
Shooting Range
» Range Rules
Alexander City Shooting Club Range Rules
1. Respect all other shooters and spectators, report any misconduct to club board member.
2. All shooters and spectators must wear approved eye and ear protection at all times when on the range.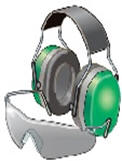 3. All guns and ammunition are subject to inspection.

4. All guns are considered to be loaded at all times,

and will be handled accordingly.

5. The basic safety rules to be enforced are:

<![if !supportLists]> <![endif]> Keep firearms pointed in a safe direction, generally up and down range.

<![if !supportLists]> <![endif]> Keep finger off trigger until you are ready to shoot.

<![if !supportLists]> <![endif]> Keep firearm unloaded until ready to use.

<![if !supportLists]> <![endif]> Know your target and what is beyond it.

<![if !supportLists]> <![endif]> Never let your muzzle cross anything you do not intend to shoot.

6. Firing of tracers or incendiary bullets is prohibited, as well as glass and other materials that may create a safety issue for people walking down the range or when the range grass is mowed.

7. All pistol and rifle shooting must be at fixed targets; no shooting at ground or aerial targets, except when using the clay thrower for shotgun shooting.

8. All shooting must be from designated firing line.

9. All shots must be fired into the safety berms.

10. DO NOT handle any firearm at or behind the firing line when people are down range. All firearms must to shown clear and empty of all live rounds.

11. Steel targets shall not be shot with centerfire rifles.

12. The steel rail (golf ball rack) on the 200 yard range shall not be shot at with centerfire rifles.

13. Shooters under the age of 18 years old must be accompanied adult club member.

14. When sighting a firearm on the rifle side of the range, if using a target placed at less than 50 yards, the target must be no more than two feet off the ground.

15. All brass and spent rounds must be picked up and placed in the proper disposal unit. Paper and other targets use disposed of in the trash containers.

16.The Rangemaster has ultimate authority for range safety, and can close and clear the ranges at any time, and may require anyone to cease firing and leave the premises at any time. Any ongoing work at the range creates a "CLOSED" condition.

Failure to observe any of the rules or regulations will result in revocation of your membership.

Also remember: NO HUNTING on

the Shooting Park premises!!

Friends & Affiliates

The NRA - National Rifle Association of America
The NSSF - National Rifle Association of America
The Sure Shot